LCCC Older Adult Specialists in the Resource Advocacy program assist aging adults and their families by coordinating and/or locating services to meet ever changing needs.  Our Resource Advocates are Licensed Social Service Technicians and are Certified Medicare & Medicaid Assistance Program (MMAP) counselors.
These local/state/federal services enhance the ability of aging adults to maintain independence within the comfort of their own home.
Resources meet social, emotional and/or physical needs…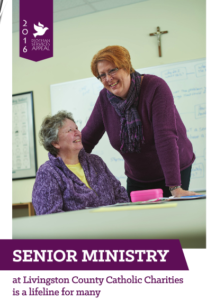 Adult Day Care
Counseling
Homebound Meals and Food Supplies
Help Coordinate In-home Services
Transportation
Home Care
Legal Services
Prescription Assistance
Medicare Part D Counseling
Medicaid Application Assistance
VA Assistance
Social Security Assistance
Assistance with filing Homestead Property Tax and Home Heating Tax Credits
Turning 65 Soon?
Call Us Today to See How We Can Help!

Meet one of LCCC's Medicare Medicaid Assistance Program Certified Specialists, Penny Jones, and see how we can help you!
https://youtu.be/vmM-VDsbTq0
Frequently Asked Questions:
I am going to be 65 soon, what should I do about Social Security & Medicare?




Three months before your birthday, call Social Security at 800-772-1213 and apply for Social Security. You will then receive your red, white & blue Medicare card.

When I turn 65, do I need different Medicare Coverage?




If you are not covered by an employer or union, you will need a supplemental insurance to cover what Medicare does not cover.

Am I covered for prescriptions under Medicare?




Yes, you will need Medicare Part D unless you apply for an "Advantage" plan (which takes the place of the original Medicare plan and covers your supplemental insurance & prescriptions).

Will I still be able to use my red, white & blue Medicare card if I have an "Advantage" plan?




No, you will be given a special card from your new insurance company.
Senior Centers in Livingston County:
| | | |
| --- | --- | --- |
| Brighton | v | (810) 299-3817 |
| Howell | v | (517) 545-0219 |
| Hamburg | v | (810) 231-1000 x225 |
| Fowlerville | v | (517) 223-3929 |
| Gregory | v | (734) 498-2502 x230 |
| Putman Twp. | v | (734) 878-1810 |
| Pinckney | v | (810) 225-3758 |
| Hartland | v | (810) 626-2135 |
For additional resources, visit our Aging Adult Resource page.