Your Legacy
There are many ways in which YOU can make a difference by naming Livingston County Catholic Charities in your Planned Giving Options while still benefiting you and your loved ones!
Charitable Bequests – A lasting legacy through your Will or Estate. Leaving a Charitable Bequest in your Will or Trust makes it easy to help your favorite charity without dipping into your current income or savings.  You can make a lasting commitment to serving the under-served and disadvantaged men, women and children of Livingston County.   Honor a friend or loved one or honor your legacy for years to come through a Charitable Bequest!
Make a "Tax Free" Gift Through Your IRA – The IRA Charitable Rollover is now permanent!  The IRA Charitable Rollover allows anyone 70 1/2 years of age to make a gift by transferring up to $100,000/year per person directly to your favorite charity.  Speak with your financial adviser or accountant for full details.
Giving From Your Retirement Plan – Name Livingston County Catholic Charities as a beneficiary of your 401(k), IRA or other qualified retirement instrument.  The Administrator is not obligated to notify LCCC.  Therefore, please contact an LCCC representative, Mark Robinson or Julie Amman, with your plans and wishes.
Gifts of Stock or Appreciated Assets – When you transfer to LCCC stocks, bonds or mutual funds shares, you receive an immediate tax deduction for the fair market value on the date of transfer and you pay no capital gains.  Shares must be held for at least one year before transfer.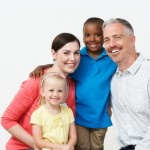 Charitable Gift Annuity  – A Charitable Gift Annuity to Livingston County Catholic Charities is a wonderful way for you to make a gift that helps LCCC to assist the under-served and disadvantaged in Livingston County while providing a guaranteed lifetime income to you or someone you designate as a recipient.  A minimum of $10,000 is required to set up a Charitable Gift Annuity.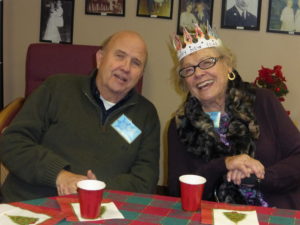 LCCC's Charitable Gift Annuity program is arranged through the Community Foundation for Southeast Michigan. For more information on how you can create a Charitable Gift Annuity for LCCC, please contact Randall Ross of Community Foundation for Southeast Michigan at 313-961-6675 or rross@cfsem.org.
After your lifetime, the remaining funds will be added to LCCC's Endowment Fund which helps us to carry on our good work in the community with the disadvantaged elderly, individuals, families and children.
Planned Gift to LCCC's Endowment Fund: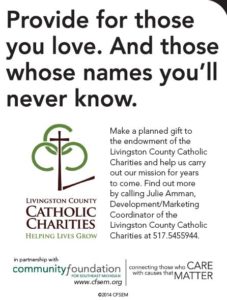 Contact your financial adviser or lawyer to review your wishes and options of leaving a lasting legacy.
Please contact Mark Robinson, Executive Director, or Julie Amman, Director of Development/Marketing, at 517-545-5944 to discuss your wishes so that we may carry out your personal desires.
THANK YOU for making a lasting difference!