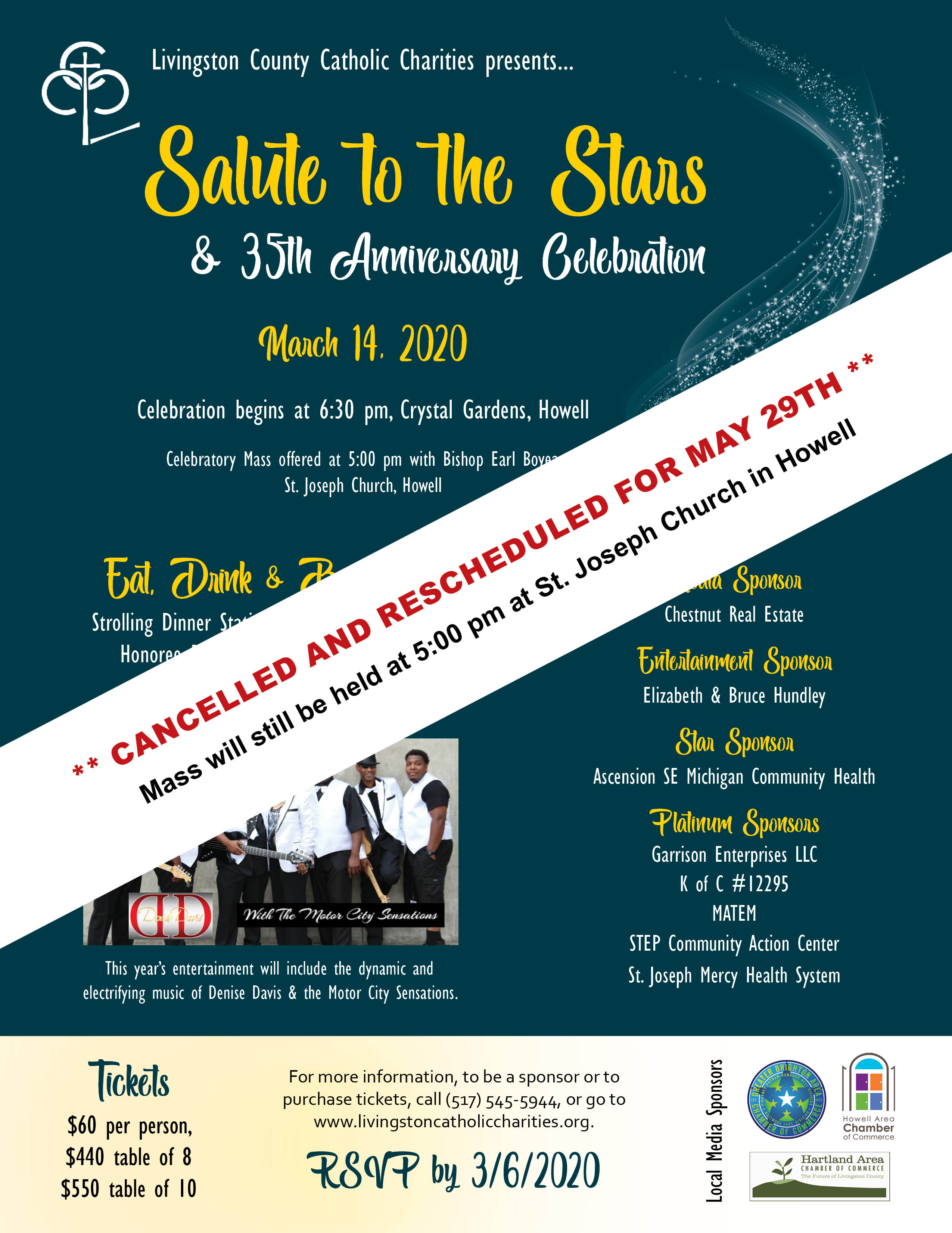 Due to the current health situation in America and recommendations by the CDC, Governor of Michigan and other health officials, Liv. Co. Catholic Charities is rescheduling our March 14th Salute to the Stars – 35th Anniversary Celebration.  We feel that our community's, friend's, supporter's and guest's health is paramount.  The new date is Friday, May 29th, at Crystal Gardens.  Stay tuned for more information to come on the event in coming weeks.  We apologize for any inconvenience to our guests.  And for those who were not able to attend, we hope that with the new date, you can now join us to celebrate! 
The Mass celebrating our anniversary at St. Joseph Church in Howell this Saturday will still be held for anyone who would like to attend.
*******
LCCC – Serving Families of All Faiths since 1985!
Livingston County Catholic Charities (LCCC), nationally accredited since 1997, provides professional, confidential services to county residents regardless of religious preference, national origin, gender, age, disability or financial circumstance. LCCC is a 501(c)3 non-profit Human Services Agency.
 *******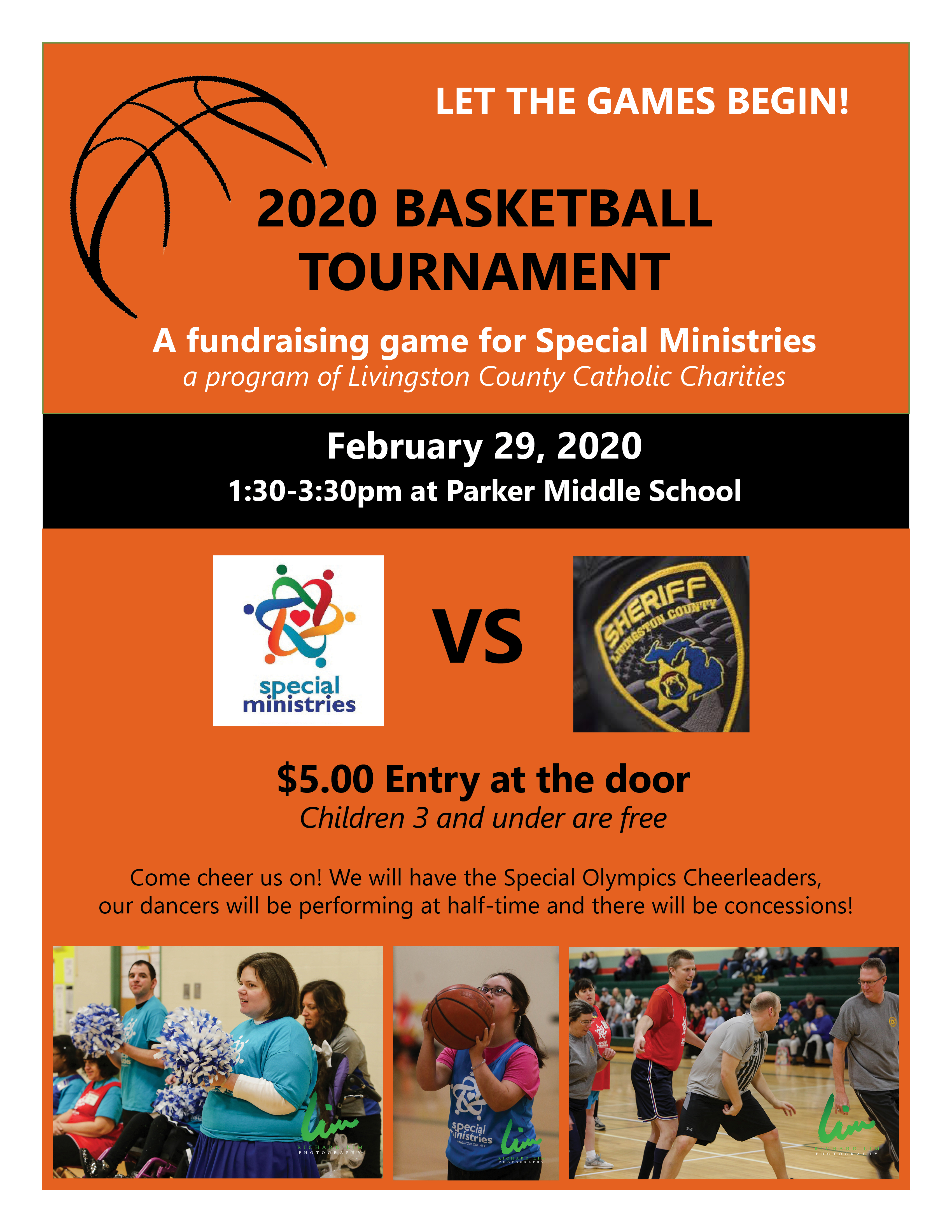 Join us to cheer on Team Special Ministries and Team Liv. Co. Sheriff's Dept.  Thank you to our sponsors:  DTE Energy!
*******
Read our January 2020 e-newsletter for the latest news!
*******
Did you know your purchases can make a difference? Amazon Smile donates to Livingston County Catholic Charities when you do your holiday shopping at smile.amazon.com/ch/38-2570420.

Thinking of becoming a foster parent? Do you have room in your heart and home for one more child?
Livingston County Catholic Charities (LCCC) holds a foster parent orientation and informational meeting the 3rd Monday of each month for persons interested in learning more about foster care.
Date: 3rd Monday of each month
Time: 5:00pm – 7:00pm
Place: LCCC Child Welfare Offices, 2020 E. Grand River #101, Howell
R.S.V.P. required – please call 517-545-5944 to reserve your spot today!
LCCC is seeking to increase the number of available homes in Livingston County to serve the children entering foster care. We need more homes to keep these children safe, cared for and in their community.

 View  February and March Caregiver Support Activities.
*******
For Current Happenings, Follow us on FACEBOOK, LinkedIn and Instagram.
********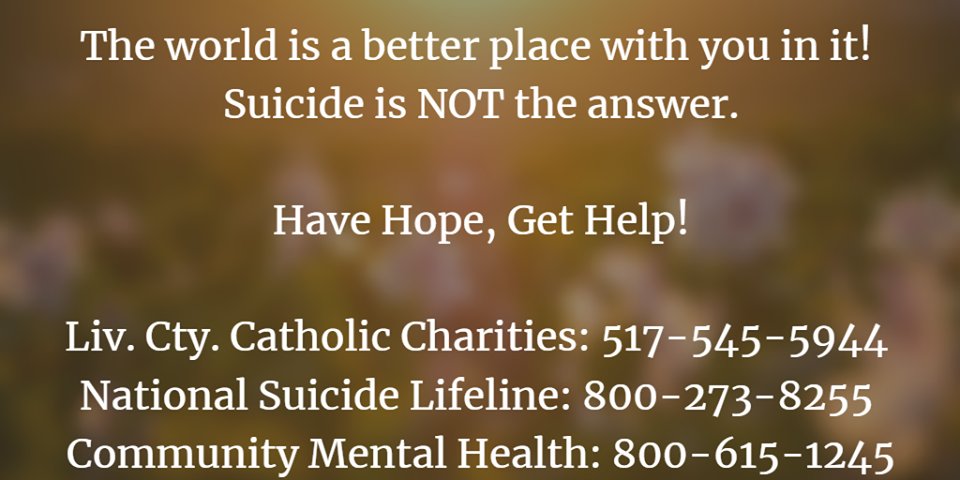 ********
We're committed to transparency! See our 2018 Gold Seal at GuideStarUSA.
ga('create', 'UA-43661019-1', 'auto');
ga('send', 'pageview');