Join us on March 9, 2019 at our annual Salute to the Stars & Celebrity Dance Competition at Crystal Gardens, 6:30p-11:00p.  Purchase tickets on-line at Eventbrite or mail your check for $60/individual, $440/table of 8 or $550/table of 10 to LCCC, 2020 E. Grand River #104, Howell, MI 48843.  Please provide all names of attendees.
2019 Dance Teams are:
Deb Drick (G1NBC) & Rachele Evers (3DX Real Estate)
Marnie (Public Health) & Patrick Michel (Brighton Twp.)
Julie (Comcast Spotlight, Fortune Cooking Brand) & Tom Lin (Fortune Cooking Food Truck, Szechuan Empire)
Rose Fodor (Alterations by Rozi) & Joseph Savanyo (Ford MC)
On-line voting for your favorite team will begin Feb. 17 – March 8, 2019.  Stay tuned for details and more on each dance team.
2019 Salute to the Stars Honorees:
Mary Lou Morris

Margo Ward & Glenn Gray
Platinum Sponsors:  St. Joseph Mercy Health System; Garrison Enterprises LLC; Colleen Pryslak – Associate Broker, KW Realty Livingston; Suburban Shipping LLC
*******
Our sincerest THANK YOU to the many generous donors who helped to provide a joyous and blessed Christmas to local home-bound and low income seniors.  Each senior received a food box, personal hygiene items, cleaning products, paper products and a Christmas gift. Several seniors tearfully called after receiving their boxes and want the donors and volunteers to know how truly thankful they are!  God Bless you all!
Items were lovingly provided by:
Brighton Senior Center, Marion Township Hall, Dearborn Sausage Co., Cowdrey Family, Dan Hall—Pinckney Chrysler Jeep Dodge Ram, Daughters of Isabella Society St. Augustine, Holy Spirit Catholic School, Storm Chiropractic, Pinckney Pathfinder Middle School—Choose to Lead Class, Jim and Charlotte Ratke, St. Agnes Parishioners, 5&6 Gr. Religious Ed & Christian Service, St. Augustine Parishioners, St. John the Baptist Parishioners & Christian Service Commission, Lester & Lori Vincen, Kindred Hospice, St. Mary Catholic School, St. Mary Magdalen Parishioners, St. Patrick School Families, St. Patrick Christian Service & Parishioners, Richard Lim Photography, Frontal Lobe Co-working, Kensington Woods Schools, Universal Container Corp, Congressman Mike Bishop's Office, Beth Newman,  K of C #7304, Hartland Lions Club, Elaine Perlong, St. Joseph Quilters, Catholic Council on Aging, William & Mary Reichert, Rick & Pam Abernethy, Bette Klann, Medilodge of Howell, LCCC Employees, Gift of Joy Dance, Dept. of Health & Human Services, Joanne Belloli, Hamburg Twp. Senior Center, LACASA, Perspectives Therapy Svc., St. Mary's Men's Club, Coalition of Oral Health for Aging, St. John Episcopal, K of C #11761, K of C #8169, Joel & Lucinda Clark,  Greg Rohkohl, Brighton Kroger, Hartland Senior Center, Creative Eldercare, Eileen Somers, Paula Hamlin, Mary McGovern, Busch's Market, St. Joseph School, Livingston County Consortium on Aging, Brighton Senior Center, Heather Aeschliman and Right at Home Senior Care. 
*******
LCCC – Serving Families of All Faiths since 1985!
Livingston County Catholic Charities (LCCC), nationally accredited since 1997, provides professional, confidential services to county residents regardless of religious preference, national origin, gender, age, disability or financial circumstance. LCCC is a 501(c)3 non-profit Human Services Agency.
Thinking of becoming a foster parent? Do you have room in your heart and home for one more child?
Livingston County Catholic Charities (LCCC) holds a foster parent orientation and informational meeting the 3rd Monday of each month for persons interested in learning more about foster care.
Date: 3rd Monday of each month
Time: 5:00pm – 7:00pm
Place: LCCC Child Welfare Offices, 2020 E. Grand River #101, Howell
R.S.V.P. required – please call 517-545-5944 to reserve your spot today!
LCCC is seeking to increase the number of available homes in Livingston County to serve the children entering foster care. We need more homes to keep these children safe, cared for and in their community.
LCCC OFFICES WILL OPEN AT 11:00am TODAY, 2/12/19, DUE TO THE WEATHER.

2019 LCCA Mini Grants are open and due March 1, 2019.  Click here for details on how to apply for a grant.
For Current Happenings, Follow us on FACEBOOK, LinkedIn and Instagram.
********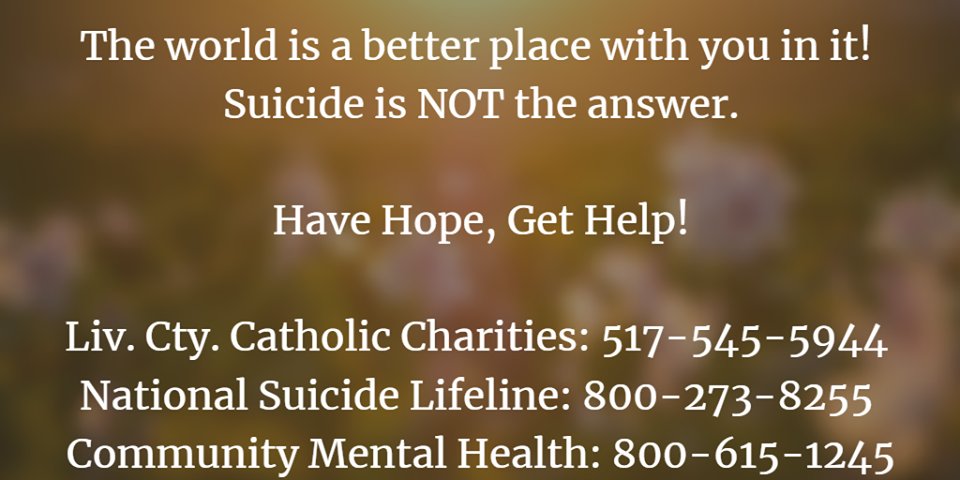 ********
Did you know your purcahses can make a difference? AmazonSmile donates to Livingston County Catholic Charities when you do your holiday shoping at smile.amazon.com/ch/38-2570420.

*******
Read our December 2018 e-newsletter for the latest news!
 *******
We're committed to transparency! See our 2018 Gold Seal at GuideStarUSA.
All rights reserved 2017 – Livingston County Catholic Charities – Michigan, USA.
ga('create', 'UA-43661019-1', 'auto');
ga('send', 'pageview');